As we said, we had a great deal of liberal guilt about renting an SUV for this trip. However, it has turned out to be a good thing. While we have seen some passenger cars driving on the same roads, we can't really imagine them doing well in some of the muddy, sloppy circumstances we have encountered. And, it's fun to be able to take those not-so-sanctioned side trips.
One of the things that I've been having fun with is making my own Jeep ads. You know the ones... where the dirty jeep sits triumphantly on top of the high peak? Here's an example of my version: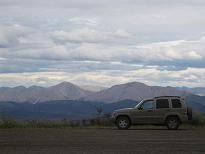 Note: Anyone from Daimler-Chrysler, give us a call. I'm sure we can work out some arrangement. ;-)
We have a few other pictures that are, well, ahem, worth a thousand words.
The roostertail that we kicked up gave us quite a consistent coating of grime on the truck. (A roostertail is what you call the big plume of dust that follows you when you drive high speeds on dirt roads.) When it started to rain, it got pretty awful, to the extent that we even washed the truck in Inuvik. Well, we did what we could, anyway... We paid our $10 for 10 minutes' use of a power washer...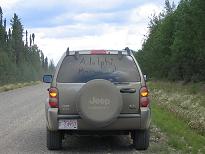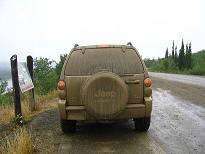 The picture on the left pays homage to home, written into the dust of our back window... The picture on the right is after it started to rain between Faro and Dawson City.

We were very excited when, between Faro and Dawson, we figured out that the truck had a back windshield washer/wiper. We really needed it.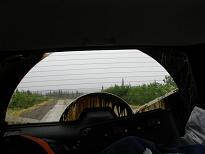 We made it all the way to Inuvik with no flat tires (raspberries to all you who said it couldn't be done)... or so we thought. We got up, bright and early (at 10) on Monday morning to find that our right rear tire was flat. Flat as a pancake, actually. So, we set about changing the tire, in the mucky, muddy, gross weather. We had to wipe some caked mud off the spare cover just to get it off. And, then we found that there was no jack in with the spare. So, we searched the back floor and sides of the truck, before we descended on National Car Rental.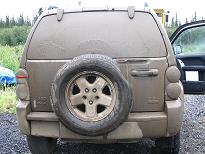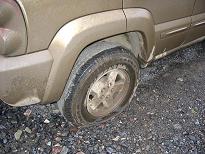 I called the Edmonton office directly, because I didn't feel like getting some rep in outer mongolia who couldn't spell jeep, and spoke to the felllow at the counter there. He didn't know where the jack was, and suggested looking in with the spare, or under the floor in the back, or in the sides in the back. When I (patiently, I thought) explained that we'd done that, he siad he'd find me the number for Chrysler road-side-assistance. At this point, I have images of a tow truck setting out from Edmonton and getting here in a week or so.
But, very much to the guy's credit, he actually found a jeep liberty on his lot and went and looked through it and found the jack. I could have jumped through the phone and kissed him. I had images of us going to buy a jack, because I didn't want to be stuck going back down the Dempster with no jack, so knowing we had one was a huge improvement.
Where do you think Jeep hides their jacks?
Go on, take a guess...
Exactly! In a bracket under the rear passenger side seat.
No wonder we were having difficulty finding it, since we had the seats down with all our junk in the back. When we found it, we had some difficulty getting it out, but we ultimately did and got the tire changed.
When we took the tire in town to have it fixed, we found a kid at a gas station who was from here and going to university (in Edmonton) to be a civil engineer. He plans to come back here when he finishes. He fixed the tire for us, for not too much money, so we're back to five functional tires now. And a jack. Let the games begin.
While we were at the gas station, Stuart tried desperately to wash the back window of the truck. He thinks it's useful, for some reason. I thought it might be fun to see that progression.